Falling for autumn; it starts with a solid TBR list & a glass of red
As the chill in the air resurfaces and the date on the calendar reaches the official end of summer, I can't help but feel delight creep up and reveal itself as a giddy smile as I trade in flowy sundresses for layers and my beloved fall sweater coat (yes, sweater coat is the official term).
---
Don't get me wrong – I adore the long, drawn-out days, with a sun that hangs on until the last second, the fresh air that carries the forest bird's song at dawn, the bucket list that demands to be attended to; disappearing out of the city every Friday afternoon and flying through breezy summer reads with the warmth of the sun on my skin. Let's just say I don't take cabin season lightly…
Although September is the mark of the back to school for many, it is also an invitation to slow down; there is something about when the temperature starts dropping in the evenings and the canopy of leaves that shade my street creep into a crisp assortment of yellows and reds that signals it's time to reset, refresh and relax.
---
There's an unwritten rule that says as soon as you start lighting your favourite scented candle (Slow Sundays, Famer's Son Co) and the wine of choice switches from an acidic, bubbly Prosecco to a dark, smooth red blend with notes of brown sugar, spice and cocoa (trigger warning for those who love Ghost Pines as much as I), you can finally take a deep breath, wrap yourself in your favourite blanket, and hole up by the fire with a thick book worth the time it'll take to read.
---
My fall reading list consists of heavy-hitters that demand you stick around for a while and spend some quality time with the characters who live in them. If you live in the same part of the world as I, you already know that autumn is here today and gone tomorrow, a forewarning of what is just around the bend; so grab a cup of hot cocoa, cuddle up, and start savouring this golden hour season!
---
Christy's Fall Reading List
---
1. The Goldfinch – Donna Tart
Being that The Goldfinch is the Human Kind Book Club September pick of the month, I'll be diving into Tartt's words first – not only so that I can make the book club meet up on October 1st, but so that I also get the chance to watch the movie play on the big screen.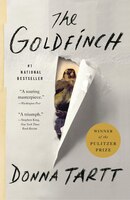 ---
SYNOPSIS
It begins with a boy. Theo Decker, a thirteen-year-old New Yorker, miraculously survives an accident that kills his mother. Abandoned by his father, Theo is taken in by the family of a wealthy friend. Bewildered by his strange new home on Park Avenue, disturbed by schoolmates who don't know how to talk to him, and tormented above all by his unbearable longing for his mother, he clings to one thing that reminds him of her: a small, mysteriously captivating painting that ultimately draws Theo into the underworld of art.

As an adult, Theo moves silkily between the drawing rooms of the rich and the dusty labyrinth of an antiques store where he works. He is alienated and in love-and at the center of a narrowing, ever more dangerous circle.

The Goldfinch combines vivid characters, mesmerizing language, and suspense, while plumbing with a philosopher's calm the deepest mysteries of love, identity, and art. It is an old-fashioned story of loss and obsession, survival and self-invention, and the ruthless machinations of fate.
2. The Heart's Invisible Furies – John Boyne
A bibliophile (and family member) I trust wholeheartedly swears by this novel, and if that wasn't enough, this book was written by the same man who gave us The Boy in the Striped Pajamas, so you already know it's going to be a masterpiece.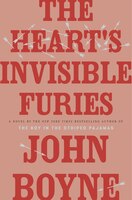 ---
Cyril Avery is not a real Avery or at least that's what his adoptive parents tell him. And he never will be. But if he isn't a real Avery, then who is he?

Born out of wedlock to a teenage girl cast out from her rural Irish community and adopted by a well-to-do if eccentric Dublin couple via the intervention of a hunchbacked Redemptorist nun, Cyril is adrift in the world, anchored only tenuously by his heartfelt friendship with the infinitely more glamourous and dangerous Julian Woodbead.

At the mercy of fortune and coincidence, he will spend a lifetime coming to know himself and where he came from – and over his three score years and ten, will struggle to discover an identity, a home, a country and much more.

In this, Boyne's most transcendent work to date, we are shown the story of Ireland from the 1940s to today through the eyes of one ordinary man. The Heart's Invisible Furies is a novel to make you laugh and cry while reminding us all of the redemptive power of the human spirit.
Author Interview:
3. The Testaments – Margaret Atwood
The Testaments is the Indigo pick of the month AND Heather's September book club pick, so having it on my list is a must. Like many, I've been waiting patiently for this sequel to be published. At the time The Handmaid's Tale was published (late 1980s) I am sure that, because of the direction the Women's Liberation Movement was steering the country, no one really suspected America would take so many steps backwards; with the recent state laws being passed on abortion rights and the religious fractions on a mission to defund Planned Parenthood, I am eager to read what Atwood prophesies will happen next. Talk about a timely release.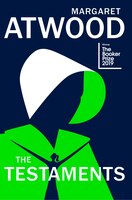 ---
SYNOPSIS
In this brilliant sequel to The Handmaid's Tale, acclaimed author Margaret Atwood answers the questions that have tantalized readers for decades.

When the van door slammed on Offred's future at the end of The Handmaid's Tale, readers had no way of telling what lay ahead for her—freedom, prison or death. With The Testaments, the wait is over.
Margaret Atwood's sequel picks up the story fifteen years after Offred stepped into the unknown, with the explosive testaments of three female narrators from Gilead.

"Dear Readers: Everything you've ever asked me about Gilead and its inner workings is the inspiration for this book. Well, almost everything! The other inspiration is the world we've been living in." —Margaret Atwood
4. The Most Fun We Ever Had – Claire Lombardo
I am a sucker for a story with diverse women who live outside the lines society has drawn for them. And ones where multigenerational families exist, inviting comparison of those separated by the generation gap. I have a feeling this one will be well-worth the commitment.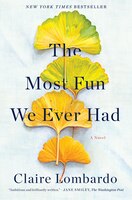 ---
SYNOPSIS
A dazzling, multigenerational novel in which the four adult daughters of a Chicago couple–still madly in love after forty years–recklessly ignite old rivalries until a long-buried secret threatens to shatter the lives they've built.
When Marilyn Connolly and David Sorenson fall in love in the 1970s, they are blithely ignorant of all that's to come. By 2016, their four radically different daughters are each in a state of unrest: Wendy, widowed young, soothes herself with booze and younger men; Violet, a litigator-turned-stay-at-home-mom, battles anxiety and self-doubt when the darkest part of her past resurfaces; Liza, a neurotic and newly tenured professor, finds herself pregnant with a baby she's not sure she wants by a man she's not sure she loves; and Grace, the dawdling youngest daughter, begins living a lie that no one in her family even suspects. Above it all, the daughters share the lingering fear that they will never find a love quite like their parents'.
As the novel moves through the tumultuous year following the arrival of Jonah Bendt–given up by one of the daughters in a closed adoption fifteen years before–we are shown the rich and varied tapestry of the Sorensons' past: years marred by adolescence, infidelity, and resentment, but also the transcendent moments of joy that make everything else worthwhile.
Spanning nearly half a century, and set against the quintessential American backdrop of Chicago and its prospering suburbs, Lombardo's debut explores the triumphs and burdens of love, the fraught tethers of parenthood and sisterhood, and the baffling mixture of affection, abhorrence, resistance, and submission we feel for those closest to us. In painting this luminous portrait of a family's becoming, Lombardo joins the ranks of writers such as Celeste Ng, Elizabeth Strout, and Jonathan Franzen as visionary chroniclers of our modern lives.
5. Behold the Dreamers – Imbolo Mbue
I'll be honest… I don't know much about this one, but judging by its cover I'd say it's the perfect fall read to decorate your beside table with. Not to mention it made it on Oprah's Book Club list – has Oprah ever lead you astray? Me neither.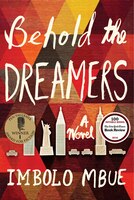 ---
SYNOPSIS
Jende Jonga, a Cameroonian immigrant living in Harlem, has come to the United States to provide a better life for himself, his wife, Neni, and their six-year-old son. In the fall of 2007, Jende can hardly believe his luck when he lands a job as a chauffeur for Clark Edwards, a senior executive at Lehman Brothers. Clark demands punctuality, discretion, and loyalty—and Jende is eager to please. Clark's wife, Cindy, even offers Neni temporary work at the Edwardses' summer home in the Hamptons. With these opportunities, Jende and Neni can at last gain a foothold in America and imagine a brighter future.

However, the world of great power and privilege conceals troubling secrets, and soon Jende and Neni notice cracks in their employers' façades.

When the financial world is rocked by the collapse of Lehman Brothers, the Jongas are desperate to keep Jende's job—even as their marriage threatens to fall apart. As all four lives are dramatically upended, Jende and Neni are forced to make an impossible choice.
Hopefully, even if you have already capped out your fall book budget (like me), there were one or two novels on my list that piqued your interest enough to squeeze them in this September/October – or you can adapt this "fall TBR" in to a "winter TBR"!
---
Other Fall Must-Haves!
---
Ghost Pines Cabernet Sauvignon
A lovely cool-weather wine, perfect to help you transition from hot summer days to any fall evening.
Mushroom Risotto with Chicken and Pea Purée
My warm and comforting meal of choice to cook with your significant other on frigid fall evenings – the ideal dinner to sit down to with friends on a misty Monday night.
My striped blanket from North America's Oldest Company – Hudson's Bay
My tea infuser water bottle from Indigo that keeps my drink steeping and hot on my morning commute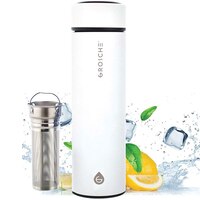 17 songs that capture my fall vibe
Happy Reading! Christy