HumanWine Book Club, It's Fall!
If you don't plan on getting through this entire post here are the main takeaways;
Spanish Coffees are delicious, try them (recipe linked)
World's Best Chocolate Chip Cookie Recipe
Ever heard of Pumpkin Spice? IF NOT; do you live in a cave? Read on…Brown Plaid Trench for fall (not a dirt brown Yzeey bag, sorry KIM)
Stephen King book (final outcome of the book could just have been a bad girls night…)
To the dedicated readers,
Oh sweet, sweet summer you were good to me. You brought me a great tan, a lot of new memories, beautiful sunrises, amazing sunsets, and so many great reads. I just want to extend a gracious and sincere 'Thank You' to Summer 2019 and a bitter sweet farewell…
We are getting down to the final quarter of 2019. Cue the drama …
We won't get into those dramatics yet because the drama right now is that it is PS season. Yes, fortunately all the yummy pumpkin flavored goodies are back, but unfortunately so are all the females who rant and rave about it 24/7 via Snapchat, Instagram, and Twitter not letting you forget that they are drinking their Pumpkin Spice Lattes by their Pumpkin Spice Candle while baking their Pumpkin Spice Muffins that are covered in Pumpkin Spice Icing… and we all know that is NO exaggeration.

For the record I am all for the Pumpkin Spice Season, I think it's delicious, but I would much rather rant and rave about Peppermint during Christmas season… So I'm patiently waiting for Peppermint season and saving all my annoying Instastories for pics of my Christmas Tree and not wasting them on a pic of an orange candle.

But you Pumpkin Spice ladies hold strong, without you then we would have nothing to make fun of while sipping our PSL's laughing uncomfortably hoping our friends don't get a whiff of our drink and notice, because deep down we are all PSL girls… whoops.
Goodbye to Margaritas by the pool, & say
Hello to Spanish coffees by the fire…
NOTE: If you have never had a Spanish or an Irish coffee for an after dinner drink then you're making a huge mistake in your life. Dessert is a thing of the past, try an after dinner coffee cocktail ladies & gents (decaf of course because I'm not some psycho who wants to drink a whole ton of caffeine before bed).
But honestly, if you don't have the energy, patience, or drive to make this Spanish Coffee just go for the classic bottle of red, I'll suggest a Pinot Noir or a sophisticated Cab Sav if you're looking to be a fancy kinda lady.
---
Chocolate Chip, Ya can't just eat one, Cookie
Honestly, there's nothing else to be said other than the best chocolate chip cookie recipe is below. Simple, delicious, and feel free to share it. I'm not that person keeping the secret cookie recipe because thats just not cool, everyone deserves an amazing chocolate chip cookie.
---
Goodbye to bikinis & high wasted short,
Hello to constant leggings & sweaters…
Whatcha wearing under that Trench?
Bring on the wind, the chill, the cold, snowflakes, rain, whatever the weather has in store because I have every jacket for every weather scenario. Some girls are shoe lovers, purse lovers, or fall sweater lovers. But this chick right here LOVES a good jacket, and I am all about my trench coat. HOWEVER, with some new research and countless hours spent browsing the internet looking for a new coat to slide into my #1 hanger spot in my closet, I've come to love a medium brown plaid trench. A similar coat is linked below!
---
Lexie's Fall Reading List
IN BOOK RELATED NEWS
With the cold weather creeping in, so is Halloween and what better way to celebrate than a scary book. I've only read one Stephen King novel back in the day, which was short and uplifting (out of King's norm) so, I picked up a creepy one from the King of horror himself, Sleeping Beauties which I am very eager to read (with all the lights on obviously).
1. Sleeping Beauties – Stephen King
Here's the plot people – a bunch of women in a small town fall asleep and can't wake up. They are in some sort of coma, BUT there is one strange woman who hasn't fallen into this spell. SOOO, logically they think lets kill her, she doesn't seem normal since she didn't fall into a sleep coma like all the other women in our town… but then, they think they can get some info out of her to solve this mystery of why all the women fell into a sleep coma… Well King, I'm interested to find out if the outcast makes it or not. I'm rooting for her, because seems to me like it was a girls night out and she was the only one who could handle herself… I'm just sayin.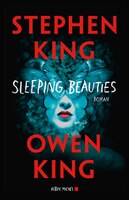 ---
2. The Ghosts of Eden Park – Karen Abbott

Another book I'm looking forward to reading this fall is The Ghosts of Eden Park by Karen Abbott. I mean, who doesn't love to mix in a non-fiction book here and there, and this is one of true crime and murder. An epic story of the most successful bootlegger in American history during the prohibition era with a Gatsby vibe, this multi-millionaire was bound for some tragic ending. The man was giving out diamonds and cars as party favors, he was bound to get in some sort of fraudulent trouble… (side note: please don't invite me to your next party unless I'm getting a Tiffany necklace when I walk out the door). I'm getting the feeling I'm going to be jumping into some 'Wolf of Wall Street meets a classy Gatsby party' kind of entertainment here and I could not be more into that (can you tell I'm a Leonardo DiCaprio fan?).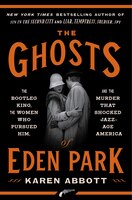 ---
Enough rambling from me about alcohol, more jackets I don't need, and obviously books (mandatory because this is a book blog, duh).
If you made it all the way through this post, thanks for reading, readers!
Go reward yourself with a drink… the Lord knows you deserve it after getting through my writing style.
Happy Reading! – Lexie