AWARDS:
New York Times Bestseller
2014 CBC Bookie Award for Best Canadian Nonfiction
2014 Libris Award for best non-fiction book of 2013 (nominee)
REVIEW:
Deep breath…
A story about freedom, resilience and courage, this memoir will transport you from the comfort of your coziest reading spot to a seemingly entirely different world, some place so dark and grim it can't possibly exist under the same sun.
Amanda Lindhout's novel tells the story, her story, of a woman whose eyes yearned for bluer skies and exotic backdrops, whose daydreams took her from her turbulent family in small-town Alberta to some of the most breathtaking and remote places in the world; it was her inquisitive nature that thrust her into becoming a freelance reporter in the war-torn and precarious country of Somalia, where her and Australian photographer Nigel Brennan were kidnapped and held in captivity for fifteen months.
From National Geographic hoarder to "country counter", Lindhout's addiction to travel was instantaneous. With no plans for secondary education getting in her way, she quickly fell into the cycle of work, travel, rinse, repeat. Her adventurous and bold spirit, optimistic self, and will for finding beauty, laced with feelings of invincibility, are what enabled Lindhout to travel alone without qualms, and eventually led her into countries with ugly headlines like Afghanistan, Iraq and then to Somalia. It was those very same traits that kept her alive.
Impossible to put down and easily one of the most, if not the most, harrowing and inspiring memoirs you'll ever read, Lindhout's story is one of wanderlust, naivety, religious fundamentalism and men as broken as their country; with captors who tortured and raped as fervently as they prayed, and greed and corruption at the central focal point of the chaos, this is also one of the most soul crushing and disturbing accounts of humankind you will ever come across. Her book is all action and little reflection; while there are a few epiphanies sprinkled throughout the novel, the focus lies in the retelling of her youth and hellish imprisonment.
Amanda Lindhout's story of survival is one that while being deeply unsettling, is underpinned with a true sense of love and appreciation for the world and its inhabitants; as her external surroundings worsened, her inner ones sharpened. Possibly the only thing more amazing than the fact Lindhout survived, is the grace in which she handled it with and her ability to remember all the beauty in the world while being kept in chains on the floor of a windowless room, completely isolated. Wishing there was more about her life post-captivity in the novel, I did my own research on what she is up to now, and my faith in humanity began to be restored.
There are no words to properly capture the whirlwind of emotions I felt, and the disgust and pure hatred I was filled with while reading the words of a woman whose life was ripped from her grasp and chained in darkness and filth. Even being as well-written as it is, it was an exceptionally difficult one to read.
---
Reviewed by: Christy (Contributor)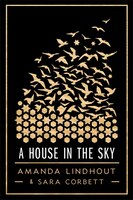 ---