AWARDS:
National Book Award Nominee for Fiction (2018)
Aspen Words Literary Prize Nominee for Long list (2019)
REVIEW:
Pearl has no family besides her mother. Together, they are the sole occupants of a broken down car parked for fourteen years in the visitors lot of a central Florida trailer park. Pearl has never known anything different. She grew up in the front seat, her mother in the back, the dashboard her dining table, the world beyond her windshield her television set.
Their world is small. They have each other, and it's enough. For a while.
When their neighbour and local pastor spearheads a "Guns for God" buyback campaign, some less than friendly company moves into the trailer park to assit him with the operations. Quickly, it becomes clear what the true intentions of the campaign are and Pearl's calm and quiet world becomes dark and dangerous.
Firearms become regular guests in every trailer. Pearl is alarmed at how swiftly their presence becomes the norm, at how unceremoniously and recklessly they are fired; for recreation, target practice, a cure for boredom.
Though Pearl's story in it's context is extreme, in it's simplicity it is startlingly common.
Clement writes with such care about the rampant fascination with guns in America. She is as poetic as she is blunt and I truly love her writing style. She illustrates Pearl's world for us in a delicate and lyrical way. It is neither a pro-gun nor anti-gun story, Clement presents the facts and it is up to the reader to determine their allegiance.
Gun Love is a unique piece of fiction that is unfortunately constantly relevant in the ever present threat of gun violence in our nation.
"Dreaming is cheap. It doesn't cost a thing. In dreams you don't have to pay the bills or pay the rent. In dreams you can buy a house and be loved back." 
---
Reviewed by: Annie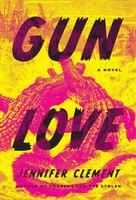 ---
Trough the Amazon and Indigo affiliate programs, for every book purchased through a link on humankindbookclub.com, a small percentage of the sale goes back into the book club! If you like to buy your books online, consider purchasing through one of our links. Proceeds go directly back into the book club for meet up events, software and giveaways.