REVIEW:
When I saw the Fredrik Backman (author of Beartown and A Man Called Ove) gave Mrs. Everything five stars on GoodReads, I ordered a copy immediately. After swiftly finishing it, crying, and wishing there were more than 5 stars to give I realized that like Backman, Weiner is a writer who just gets it.
Mrs. Everything is the story of two incredibly different sisters, Jo and Bethie Kaufman, growing up Detroit Michigan in the 1950's.
Bethie is charming, popular, and the apple of her mother's eye. Jo, on the other hand would rather play catch in the yard and wonders why she has to wear a dress when she'd much rather blue jeans and a t-shirt. Bethie is the epitome of what it means to be feminine, all lace and curls, where Jo just can't seem to fit in – or please her mother for that matter.
For a time, the Kaufman's had it all. The perfect house in the perfect neighbourhood, a comfortable, steady income, and two loving parents. That is until the girls come home one day to find their world entirely changed in an instant.
As they grow up, the roles the sisters once played are flipped. Jo settles down with a family of her own, where Bethie rebels and becomes a free-spirited member of the women's liberation movement.
Mrs. Everything is alternately narrated by Jo and Bethie as it follows the sisters through the decades and the subsequent trials of what it means to be a woman in that era. The girls are each faced with tragedy and heartbreak, both realizing that neither are living the life that brings them true joy. Jo and Bethie demonstrate the repercussions of both fitting in to and rejecting the roles that are set out for women in America.
I found it impossible not to relate to bothof the Kaufman girls at some point throughout the story. They both experience obstacles and trauma that are still quite relevant to woman today. Abuse, education, marital roles, fertility, sexism, and motherhood.
Though it may feel like we have come a long way, and traditional roles may not necessarily always be at play, Weiner reminds us as women to question the norm that is set out for us and to remember that it is not selfish to divert from the path of traditionalism.
I truly loved this novel. The pacing is superb, the descriptions illuminating, the characters authentic and loveable. It left me feeling both proud of the progress we have made and equally terrified of the steps backwards we seem to be continually taking as a society.
Reviewed by: Annie
---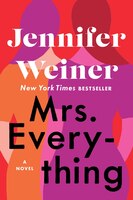 ---