REVIEW:
"Unexpressed emotions will never die. They are buried alive, and will come forth later, in uglier ways." – Sigmund Freud
First off, I must come clean… I initially bought this book for my friend's birthday, but after reading the reviews and careful consideration, I decided to give into my naturally selfish ways and keep it for myself… If you've read this one already, can you blame me? My jaw is still hanging open, eyes wide with disbelief. My face has been frozen this way since I slowly closed the book and put it down for the last time.
I'm still trying to collect my thoughts…. But holy f*#k… That about sums up how I feel about this one – review complete? The Silent Patient is a psychological thriller that centers the plot on Alicia Berenson, a thirty-three year old artist who shot her husband five times in the face and who subsequently slit her wrists, and who has not spoken a word since.
Fast forward six years to when the narrator, a psychotherapist named Theo, introduces himself. He was as flummoxed by the high profile murder case and the silence of the perpetrator as the rest of London, but his credentials positioned him differently. Eager to work with her, he jumped at the chance to as soon as the opportunity arose and began one on one therapy sessions with her at the Grove, a mental care facility, with the goal of healing her enough to get her to say something, anything.
The Silent Patient is peppered with Alicia's old journal entries but is mostly told through the eyes of the medical professional, crafting a narrative that is heavily dependent on psychology 101; every character is psychoanalyzed by the protagonist as he plays detective, desperately determined to uncover Alicia's past in hopes of answering his own questions: what happened in her childhood, and what had made her into a murderer?
Michaelides uses each chapter to peel back another layer of Alicia's story and the story of his narrator, a man as complex as his patient. Each chapter ends with a definitive, leading statement – making it impossible to stop turning the pages aggressively, no matter how soon you have to get up for work. I found myself playing detective alongside Theo, but as soon as I started piecing together what I thought must've happened the tangle of lies disguised as truths would flip my theory on its head. The further I got into the novel, the more my questions kept piling up. Who is telling the truth, and is there as such thing as an absolute truth?
This novel explores the inherent darkness in every human; themes of death, love, deception and good versus evil are found in each character's own story which Theo exposes during his obsessive hunt for one woman's motive. The Silent Patient is a pulse-pounding suspense novel that had me panicking as I neared the end, thinking there weren't enough pages left for a resolution. Let's just say I don't regret keeping this one for myself and I fully intend to recommend Michaelides's debut novel to anyone who will listen.
---
Reviewed by: Christy (Contributor)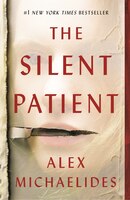 ---